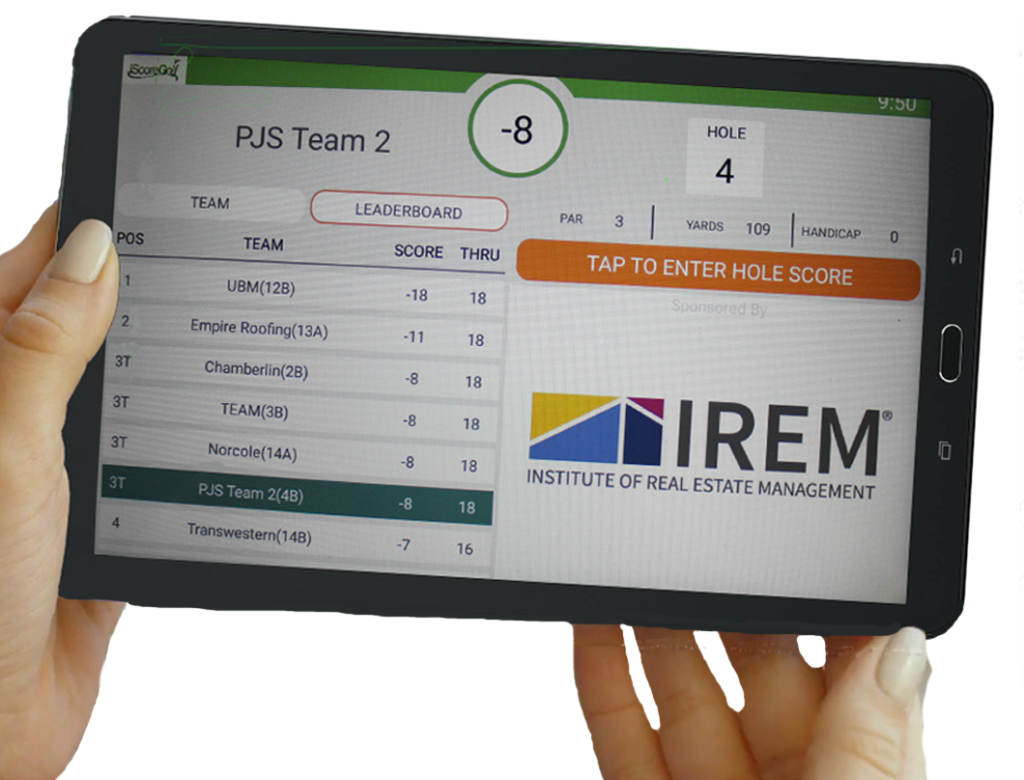 TAKE YOUR TOURNAMENT TO THE NEXT LEVEL
ARE YOU STILL USING PAPERSCORE CARDS? iScoreGolf has introduced our LIVE real-time SCORING. No apps to download. At registration, each team receives an 8″ tablet, which acts as their Official Score Card.
iScoreGolf will distinguish your golf tournament from everyone else. We take charity golf events to the next level with the "WOW" Factor. All while creating an exciting experience for your players and maximizing your sponsor's recognition. The best part about this opportunity is iScoreGolf can be offered to create another special sponsor / underwriter opportunity for your event. Creating another Sponsor line-item will help you put more money to the bottom line. Four key points, why Live Scoring will take your event to the next level.
4. Players DO NOT have to download another APP on to their personal phone. Downloading an APP will create a back-up at registration. In our several years of experience, we've seen this method used at Charity Golf Events. What happens, is about ¼ of the field will NOT use the APP and will return a paper scorecard at the end of the round. This defeats the purpose of using an APP and will cause delays after the round.
3. Throughout the event every team in the field will know exactly where they stand in the tournament. Teams may view a Live real-time Scoreboard. This creates another level of excitement and competition for the players. Coming down to the final holes, a team will know if they have to go birdie, birdie to win, or knowing that 10-footer on their 18th Hole is to win the tournament.
2. This device allows you the opportunity to maximize sponsor recognition like never before. The main screen of the tablet can display your TOP Sponsor logos, providing On-Course sponsor recognition like never before. Also, sponsors can appear between holes recognizing Closest to the Pin or Long Drive Sponsors. The scoring is cloud based and the scoreboard can be shown on monitors/projection screen in the clubhouse. Anyone can follow the action off-site too, at the office or at home.
1. Since scoring is done in Real-Time. No more waiting for the last paper scorecards to be returned, allowing your banquet and awards ceremony to begin without delay and save time.